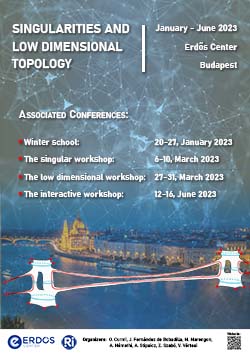 The semester on "Singularities and low dimensional topology" will focus on recent developments in the theory of surface singularities, and the connection of this discipline with low dimensional topology, and in particular, to Heegaard Floer homology. We expect that the interaction between these two fields will enhance our understanding of both. The interplay between topological and analytic invariants of isolated surface singularities will be of special interest.
Several activities will be organised in conjunction with the research semester: there will be a winter school, three research conferences, a learning master class, and some research weeks focused on chosen subjects.
Below are the key dates of the semester.
Program
Conferences:
Focused weeks:
Marco Golla and Andy Wand: 20-24 February 2023
Andy Manion and Zoltán Szabó: 13-17 March 2023
Sucharit Sarkar: 20-24 March 2023
Note: One more focused week may be announced later.