The Singular Workshop
03.06.2023.
-
03.10.2023.
Description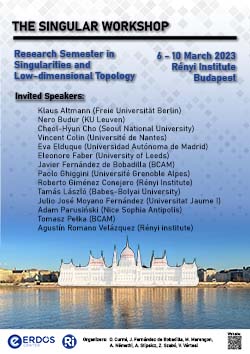 The workshop is part of the "Singularities and low dimensional topology". 
Click on the links below to download:
Please click here to upload the result of your rapid COVID test. You can download the instructions to take the test by clicking here.

Confirmed speakers:
Klaus Altmann (Freie Universität Berlin)
Nero Budur (KU Leuven)
Cheol-Hyun Cho (Seoul National University)
Vincent Colin (Université de Nantes)
Eva Elduque (Universidad Autónoma de Madrid)
Eleonore Faber (University of Leeds)
Javier Fernández de Bobadilla (Basque Center for Applied Mathematics)
Paolo Ghiggini (Université Grenoble Alpes)
Roberto Giménez Conejero (Rényi Institute)
Tamás László (Babes-Bolyai University)
Julio José Moyano Fernández (Universitat Jaume I)
Adam Parusiński (Nice Sophia Antipolis)
Tomasz Pełka (Basque Center for Applied Mathematics)
Agustín Romano Velázquez (Rényi institute)
 
Application and registration
We no longer take applications for this workshop. Applicants have been notified by email about our decision.